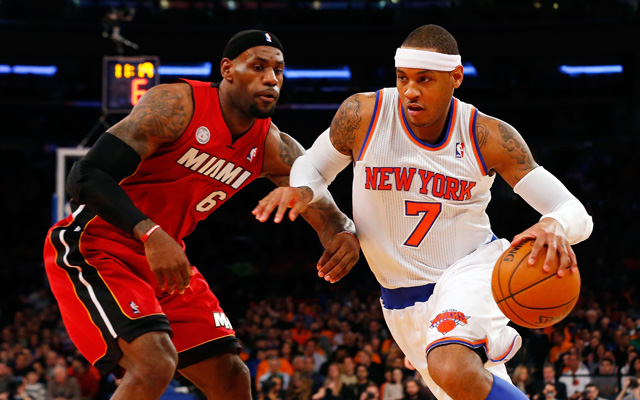 At his team's media day last month, Knicks' superstar Carmelo Anthony asserted that he didn't want to answer any questions, let alone think, about his impending free agency.
"When that time comes, I'll deal with that," Anthony said. "I'm not going to go through the season thinking about my contract. I'm actually under contract right now, so I'm not going to think about whether I'm going to opt out. I'm not doing that. When that time comes, I'll deal with it."
"I told you that when I saw you this offseason," the star forward continued rather defiantly towards a reporter. "I wasn't going to continue addressing that. There's really no need to. When that time comes, I'll deal with it. Until then, my focus is on the court, being a Knick, and doing what I have to do to hopefully win a championship."
Frankly, Anthony should have continued to take his own advice (and not have addressed the impending free agency any further), but such a strategy didn't last very long.
The above comments were made (at the team's media day) on September 30th. In an interview conducted somewhere on or around September 11th (at a charity function or sorts) with the New York Observer, Anthony stated the inevitable: "I want to be a free agent."
As the superstar essentially says, who can blame him? Every player, at some point in their respective career, wants the opportunity to explore any and all possible and potential opportunities. But after all he's been through and everything he did to get to New York, one could also expect Anthony to opt out of his contract this coming summer, only to subsequently re-sign with the Knicks for a new maximum pact through five more years.
The star has continued to say there's no reason for him to leave the Big Apple. Even so, it'd be his right as a player and general human being to want to see what else is out there anyway. There's nothing wrong with keeping the door open. One couldn't take exception with that, even if that's what Anthony said he wanted to do.
The problem is, Anthony's way of dealing with such a decision (saying he won't make any decisions and/or allude to any decisions being made until then) initially was so much better what's now sure to follow.
What's sure to continue coming (as a result of Anthony's comments) is pure speculation, for better or for worse.
Back on media day, the forward appeared to be getting frustrated when faced with such questions so early in the season. Who can blame him? Nobody, really.
But then again, who can blame such reporters for merely asking the question? Again, nobody, really. It's their job, and thus, it's the nature of the business. It comes with the territory.
After all, raising the issue wasn't the most outrageous or farfetched of notions (though fans may not always want to hear it anyway). The fact of the matter remains that Anthony had his interview (with The Observer) weeks before training camp had even begun. Thus, the question was raised prior to that, by someone in a calm, more controlled, and a likely much friendlier and less hostile setting.
And just like that, Anthony answered the question and made such an assertion.
The team, its fans, and the local media alike shouldn't have a problem with such a decision (ultimately to simply just opt out, not necessarily test the market). It's Anthony's right to be able to make it.
That said, what Anthony can be blamed for (at this point) is opening up the flood gates even further, because people love to speculate. Here's to hoping it doesn't make for too much of a distraction here after.