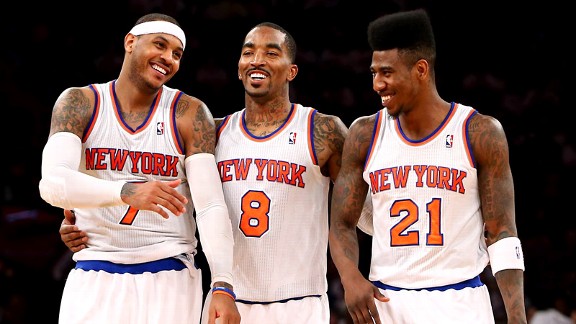 In recent years, the likes of Dwyane Wade (Heat), Chris Paul (Clippers), and even Deron Williams (Nets) have been granted major influence with regard to how their respective organizations fill out the team roster.
When 2015 comes around, it appears as though perhaps the Knicks will be open to giving Carmelo Anthony similar power.
The likes of Anthony and LeBron James headline a potentially massive free agent class for next summer (2014). But should either (or both) player(s) opt in for the following season, the hype will simply remain just that.
One would like to believe that Anthony, a Brooklyn native, is not only committed to bringing an NBA championship to the Big Apple as a member of the Knicks, but that he feels as though he has the pieces to do so. General Manager Glen Grunwald (and even Donnie Walsh, previously) has done a very solid job of building, then maintaining, but also adding (to), a very talented core of players. He knows what he's doing. He's proven that.
But just in case Anthony doesn't share Grunwald's views for a potential blueprint for success, New York is reportedly open to giving Anthony free rein to build his own team, pretty much from scratch. Like the previously mentioned stars have been able to do in the past, the Knicks' star would be able to hand select his teammates.
By the time 2015 comes around, the likes of Amar'e Stoudemire, Tyson Chandler, and even Andrea Bargnani's contracts will all have expired. Anthony, on the other hand, holds a player option for the next season. This would give him the freedom to simply opt in, or opt out to reel in the teammates he wants, and then potentially signing for less to appease the others.
If given even more influence and/or unofficial control, who would Anthony be likely to target? J.R. Smith will currently still be under contract at that point. The Knicks' star has also previously asserted that he believes Iman Shumpert will develop into a star within the next two seasons, so one would have to believe Anthony would want the young gun to stick around as well. Who else he'd try recruiting to the Big Apple remains to be seen. He'd surely have players as talented as himself in mind.
Is giving a star player so much control (simply to insure they stay aboard as well) truly the right move for teams? Either way, it appears to be an ongoing trend, for better or for worse.