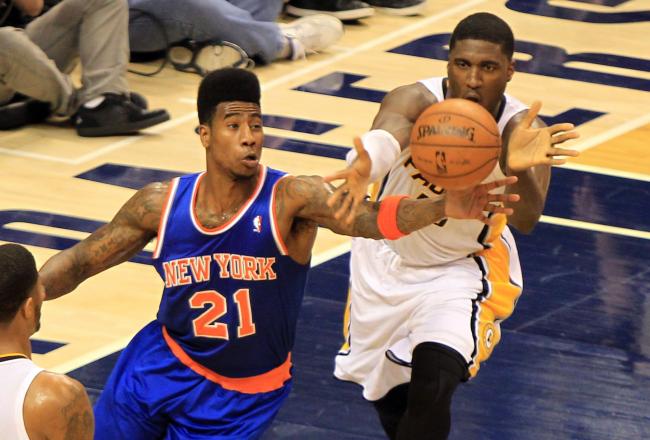 By multiple accounts, last season could (and/or should) have been considered a failure for the Knicks. Of course, there was the securing of the second seed in the Eastern Conference, their first Atlantic Division title in over two decades, and their first playoff series victory in a decade as well. These are positive things, but New York's inability to get past the Indiana Pacers and reach the Eastern Conference Finals (at least) gave way to an underwhelming finish to the year.
Thus, various key players are looking to elevate their games in ways that will ultimately benefit the team and help them reach the next level. J.R. Smith is looking to right his wrongs and learn lessons from past experiences. Raymond Felton is hoping to assert himself as more of a vocal leader both on and off the court. Tyson Chandler is aiming to become more influential on offense by adding a mid-range jumper to his game.
All these things are good and great, but the pressure may be on Iman Shumpert (perhaps in a positive way, to boot)the most to further his development as a third year player and become more of a focal point for his team on both ends of the court.
After all, Anthony certainly believes Shumpert is ready to embrace such pressure and a new role. What's more, the Knicks have continued to groom him with the future of the franchise in mind.
Ever since receiving a handful of "All-NBA Defensive" team votes following his rookie year, Shumpert has widely been thought of as defensive stopper and someone who prides himself on such abilities. Earlier this week at Knicks' Media Day, the 23 year old looked to put any notions that he may simply be a one-dimensional player to bed.
"It's not that I love defense. I say this over and over to everybody, Shumpert added. "I don't love defense. I want to score so bad, that I'm willing to snatch the ball out of your hands. That's what defense is about."
The guard continued, "The game of basketball is to score the ball and have more points than the other team at the end of the game. To do that, I need to snatch the ball from you as many times as I can to give my teammates more chances to score the ball. That's what it comes down to."
Shumpert conveys his mentality rather simply, but it is, nevertheless, still a very interesting way to think of things. His motivation may be to ensure his teammates come up with more possessions, but if the Knicks as a whole have any say, expect Shumpert to embrace being "the man" a bit more on offense while cashing in on a few more similar offensive opportunities of his own as the season begins.