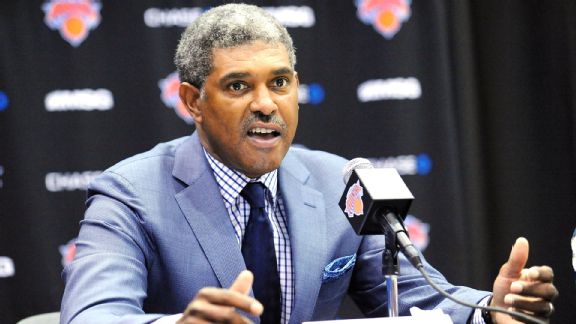 The Knicks' demotion/firing/re-assignment of Glen Grunwald was unfortunate, to say the least. Having finished third in last season's "Executive of the Year" voting, it's easy to say Grunwald did a solid job over the course of his tenure as General Manager.
Taking over for Donnie Walsh, Grunwald picked up right where the former left off and put his strong finishing touches on a team already filled with promise that Walsh laid the groundwork for. Following a season during which New York won over fifty games, clinched an Atlantic Division title, and won their first postseason series in over a decade, Grunwald is out and former MSG President Steve Mills is now in.
As mentioned, the removal of Grunwald (from his G.M. post) is unfortunate, given the seemingly good job that he in fact did. Upon further review, however, carrying a torch for Grunwald is by no means a reason to dislike Mills.
Grunwald's exile aside, it appears as though Mills will do a decent job himself as well. After all, the work the former put in may make the latter's job that much easier, anyway.
Even so, it's easy to make the argument that Mills, too, will succeed. If nothing else, he certainly appears much more vocal than Grunwald was normally in the past. Of course, that may be a result of how much and/or how little the organization allows/allowed each one to speak. Nevertheless, Mills' enthusiasm and eagerness to succeed oozes out.
Along with Mills' enthusiasm has come his ability to say the right things when the questions directed at him have been touchy and/or difficult. Saying the "right" thing doesn't necessarily mean you dodge the question by saying something everyone would have expected you to say. Luckily for fans and media members alike, Mills hasn't done that. He's been up front and honest to the best of his ability, which undoubtedly comes as a breath of fresh air.
From his comments regarding Carmelo Anthony's forthcoming contract situation, to his outright denials that Isiah Thomas may be involved in the Knicks' ongoing decision making, Mills' answers to some of the more pressing questions thus far have certainly sufficed.
It's still early, but at this point of his own respective tenure as Knicks G.M., so far, so good for Steve Mills. Just like Walsh and Grunwald each did before him, expect Mills to make his own respective stamp on the team's roster before it's all said and done. As time goes on and adjustments need to be made, it'll be only right.
That said, it's clear that the Hempstead, New York native turned Princeton alum Mills wants to succeed. He wants to achieve success not only for himself, but for the team, its city, and their fans.
Sit tight Knicks fans, because with a brand new season and the impending big free agency periods of 2014 and 2015 on the horizon, the organization appears to trust Mills as the right man with the plan.