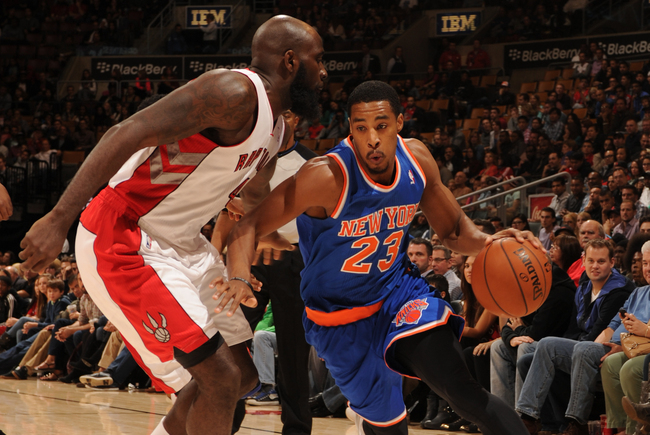 Perhaps dating back to Summer League (and obviously continuing throughout training camp and the preseason), guard Toure Murry has been displaying flashes of incredibly impressive play. With a couple of roster spots on the Knicks up for grabs, the NBA D-League champion is certainly doing his part to prove he deserves one.
Though the Knicks fell to the Raptors in a double-overtime matchup on Monday, Murry still used the contest as another opportunity to strut his stuff for the better. He was aggressive and ran the offense pretty well on his way to scoring 12 points. He also grabbed 5 rebounds.
Of course, it all depends on what the Knicks are looking for, but Murry has undoubtedly done enough thus far to prove his talent. He could very well compete at the NBA level. There's not much doubting that any longer.
Without much of a question that he should make the team, other current factors (out of his control) may still make Murry the odd man out. With three other point guards on the roster, New York may ultimately decide there isn't room for a fourth in Murry.
If that turns out to be the team's decision, they won't be more wrong.The Knicks do have a trio of floor generals already on the roster, but in no way are they three point guards deep. There's no first, second, or third stringer.
Allow me to explain. It's easy to see that Coach Mike Woodson's experiment of playing two point guards at once worked well and did wonders for New York towards the end of last season. That said, playing two out of three together (and allowing them to eat up minutes on the court at the same type) pokes a hole in such recognized depth. Thus, Murry still has the opportunity to fill a unique void.
A combo guard of sorts himself, Murry can certainly share time with another point guard on the floor. A pesky defender who likes pestering his opponents up and down the court, the young gun knows how to apply pressure at either guard position. What's more, his athleticism and high basketball IQ make him a formidable off the ball player as well.
Thus, there's no reason why Murry should be cut in the coming weeks. He's done enough to prove he deserves a shot, and given the Knicks' current situation and the way Mike Woodson likes to play, the window is still wide open for him to capitalize on such an opportunity.