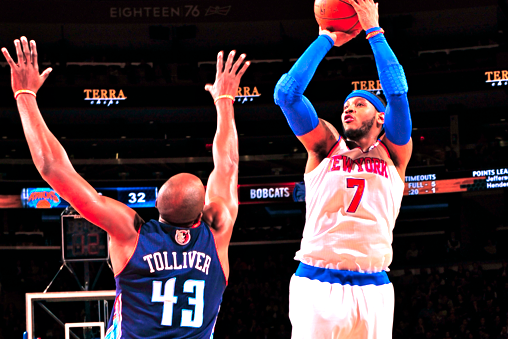 Earlier this offseason, Phil Jackson met with Carmelo Anthony over dinner; not to get the superstar's thoughts on the Knicks' head coaching search, but rather to outline his plan to hire Steve Kerr.
Of course, the former Bulls sharpshooter opted to join the Golden State Warriors instead, leaving Jackson and co. to revert back to square one on the team's coaching search.
Frankly, Kerr's decision to venture elsewhere might have been a blessing in disguise. His prospective hiring certainly wouldn't have provided quite the splash necessary to make noise in the Big Apple, especially as far as Anthony is concerned. The Knicks' star free agent forward wants to commit to a winning team, and hopes New York can show enough to prove they mean business. Hiring a candidate who has never coached a day in his life may not be the direction in which Anthony hopes to see his team go in.
Taking that into consideration, losing out on Kerr could've provided Jackson an opportunity to rethink his strategy, mainly with Anthony in mind.
But instead, the thirteen-time NBA champion remains hellbent on bringing one of his trusteed confidants on board instead. Whether or not that pleases Anthony remains to be seen. But at the very least, however, one thing is clear. Jackson is set in his ways (for better or for worse), and believes he can build a winner by surrounding himself with those who he has been able to achieve success with in the past.
Instead of specifically aiming to build around Anthony, Jackson has other ideas. Here's to hoping that as he continues to fill in the pieces to his puzzle, the Brooklyn native is still able to fit into the team's fold to everyone's benefit.