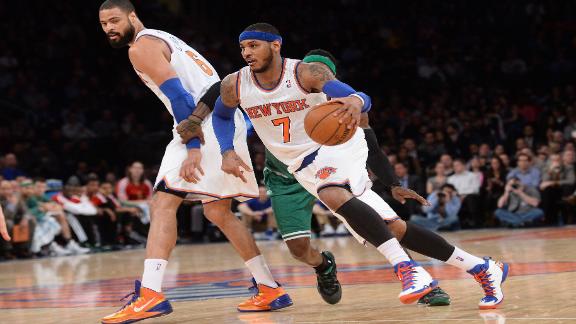 Earlier this season, the Knicks suffered their worst loss of the season, a blowout defeat to a Boston Celtics team that surprisingly appeared on the rise.
Since then, things have gotten back to normal a bit, slowly but surely. The Celtics have faltered as of late, and the Knicks had won their last two contests in rather commanding fashion.
Coicidentally enough, Tuesday night was no different. As they continued to roll, the Knicks returned the favor to Boston with a blowout win of their own, by a score of 114-88.
New York was able to relax and tended to trade buckets with the Celtics throughout the second half, but it was a rather dominant first half that paved the way for the Knicks to never look back while securing the victory.
On quite the scoring tear as of late (even for him), Carmelo Anthony scored double-digits in the first quarter alone yet again to help set the tone for his team. His rhythm on offense proved to be an infectious one, as his 24 points in just 28 minutes led five Knicks in double figures.
Jeremy Tyler continued his promising play with an impressive 17 points off the bench. J.R. Smith scored 17 points as well, and did so rather efficiently while letting the flow of the tean's offense dictate his success. Tim Hardaway Jr., however, continued to give Smith a run for his money by scoring 16 points of his own. Tyson Chandler also provided an offensive spark down in the low post as well, scoring 12 to go along with his 13 rebounds.
For Chandler, it was his second consecutive double-double. Hardaway Jr.'s continued strong play not only begs the question as to whether or not he deserves more minutes than Smith, but also increases his chances of being selected for the Rising Stars Challenge during NBA All-Star Weekend.
Even Pablo Prigioni, who has struggled to knock down shots since coming back to New York's lineup, added 7 points of his own. He, like many of his teammates, took advantage of an easy night for the Knicks.
Needless to say, it was productive night for a bevy of Knickerbockers. In a return from two-week injury absence, even Kenyon Martin played very well. Scoring 6 points in just 9 first-half minutes, Martin looked as alive and assertive as ever on both ends of the floor. That's a positive.
The Knicks have developed quite an offensive rhythm as of late, making things easier for them on defense as well. Running and gunning is exciting for all involved, but it also takes the pressure off for a team like the Knicks to be so locked in defensively. As former Knicks' coach Mike D'Antoni always says, if a team is doing its best to effectively outscore their opponent, they won't need to worry about much else.
Luckily for New York, that proved to be the very case on Tuesday against Boston.