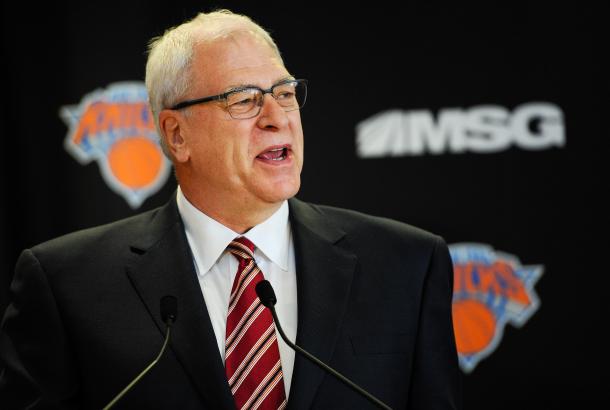 First impressions are often everything.
On Tuesday night, Knicks' President of Basketball Operations Phil Jackson met with resident superstar Carmelo Anthony for dinner.
According to our pal Ian Begley of ESPN New York, the two discussed the team's coaching situation and Anthony's pending free agency this summer.
Meeting with Anthony as early as possible was/is the right thing to do. With little to no cap flexibility until the summer of 2015, Jackson needs to convince the Brooklyn native that something special is on the verge of being accomplished. He needs to convey his desire (and potential subsequent strategy) to turn the Knicks into a champion once again.
It'll take Anthony buying into such an idea to further entice him to stick around and "wait" it out through next season as the Knicks anticipate the cap relief set to come in the months to follow. In the meantime, things could get ugly if New York struggles to remain competitive during the 2014-15 campaign.
Getting the star forward's input on the team's coaching search is vital as well. With the Knicks reportedly aiming to hire Steve Kerr by the end of the first round of the NBA playoffs, hopefully Jackson can help Anthony understand why he believes the former Bulls' sharpshooter (and five-time champion) is the ideal man for the job going forward.