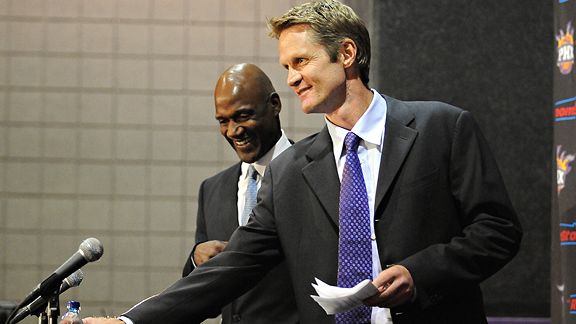 It's been dually noted, as of late, that former Bulls' sharpshooter Steve Kerr has quickly emerged as Phil Jackson's top candidate for the Knicks' head coaching vacancy.
According to Marc Stein of ESPN, New York is aiming to hire Kerr by early May, presumedly after the first round of the NBA playoffs. What's more, former Bulls/Knicks big man Bill Cartwright has also spoken to Jackson about a potential role on Kerr's staff.
There's no doubt it's good for Jackson to have a direction in which he wants to take the Knicks. Under certain executives in past years, such guidance is something the organization has undeniably lacked on a consistent basis. Still, perhaps it's worth taking a step back to ponder whether or not Kerr is the best (and/or most sensible) fit at this point.
Above all else, not only was Jackson introduced as President of Operations to make a splash, but also so that the Hall of Famer could use his connections and/or notoriety to reel in notable talent on the playing/coaching fronts.
While the likes of Kerr and Cartwright may claim to understand Jackson's preferred triangle offense, Jackson's presence isn't exactly the secret sauce that is enticing either man to venture over to the Big Apple. They'd come regardless.
After all, it was Kerr himself who suggested that if Jackson weren't in charge, the Knicks wouldn't have called and/or looked his way. With that in mind, it could be suggested that Jackson is using his position to hire "his" people in certain Knickerbocker roles.
Much can be said and/or argued about Kerr's inexperience as a coach. He may know the triangle, but does he understand what it takes to mentor younger players, and/or motivate resident stars with larger egos?
Aside from Kerr's lack of experience on the bench, perhaps most concerning of all is the lack of a splash his hiring will stand to make. Whereas this isn't always a pressing factor, the Knicks are faced with convincing Carmelo Anthony that they mean business. Clearly, the star hasn't otherwise been consulted on the coaching search.
Will the hiring of Kerr be enough for Anthony to begin understanding and believing in Jackson's vision? That remains to be seen, but the former's lack of credibility as a coach is underwhelming. There's no denying this at all, so that in itself may be enough to turn Anthony off.
With the position still yet to be filled, and plenty of cap flexibility to follow next season, perhaps it would be  better to plan ahead with Anthony's preferences in mind, rather than going about things one way and simply hoping he approves.
Would a call to Anthony be worth Jackson's time and effort? That's up for debate.