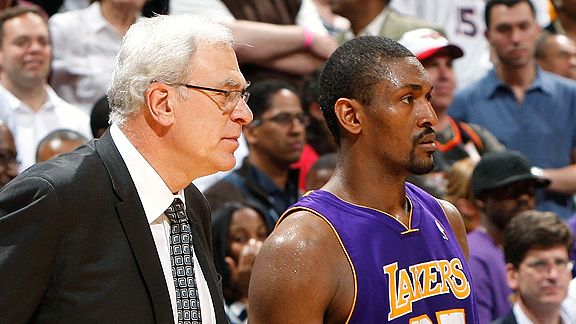 When Phil Jackson was introduced as the Knicks' President of Basketball Operations last week, I found myself wondering if Metta World Peace's career in orange and blue would have ended any differently (or at all, for the matter) if the thirteen-time NBA champion had arrived in the Big Apple any earlier.
In addition to winning a championship with the Lakers with Jackson as coach, World Peace not only appears like a player the latter can appreciate, but also one that he can/could have also reeled in when things got out of hand. With Jackson on board earlier, World Peace's time with the Knicks would have been much more positive.
Ironically enough, it seems as though my instincts were correct.
With the Knicks and Lakers set to rumble in Los Angeles on Tuesday night, the forward appeared on the local ESPN Radio affiliate to discuss his time in L.A., New York, his relationship with Jackson, and the future of his career.
Always a candid, lively, and vibrant speaker, World Peace, of course, touched on a number of different topics and let a number of worthwhile gems slip out. That said, amongst it all was the simple assertion that he would have not accepted a buyout from the Knicks, had he known that Jackson was on his way.
One has to wonder even further if such a buyout would have been offered to World Peace in the first place, if Jackson were already in charge. Still, it's been said that talks with Jackson began dating back to December. If that were the case, was he also advised and/or sought out regarding current ongoing personnel matters leading up to his hire? If so, he certainly didn't stand in the way of Steve Mills and company offering World Peace his buyout.
For more highlights from the Queens native's interview, click here.
To hear the interview in full, click here instead.