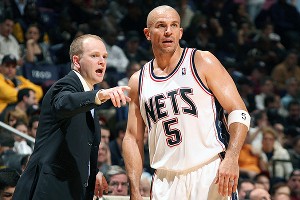 Fresh off retiring from the NBA as a player, Jason Kidd must've come to the conclusion that he was getting very bored very quickly after just a few days at home.
The now former Knicks' guard is wasting no time looking for his next job, gunning for the Nets' vacant head coaching position.
There are plenty of things farfetched with such a development. Just weeks after last donning orange and blue, Kidd is ready to jump ship right back to the Nets. What's even more obvious, too, is the fact that he owns no previous coaching experience.
Off the court, that is.
If there's anyone that could potentially make this type of a jump so quickly, it's probably Kidd. In addition, the point guard does happen to represent one of the best players in the Nets' all-time NBA history, having led them to NBA Finals appearances in both 2002 an 2003.
Could he do it as a coach, is now the real question. Though most new head coaches aren't held to such a standard this early in their transition, the fact of the matter is not only was Brooklyn the fourth-seeded team in the East, but ironically, it still wasn't good enough.
Nets' officials clearly have winning an NBA title in the near future in mind when it comes to the group they've put in place.
Just about a year ago, Kidd was reportedly contemplating joining either the Knicks or Nets for the upcoming season. He chose New York, slighting golf-buddy Deron Williams. The contract Kidd signed called for him to be a Knickerbocker for three seasons following that point. Since proving to be a one and done deal, Kidd appears ready to flock back to the Nets in Brooklyn.
Constantly kept in high regard as a coach on the floor, Kidd was one of the smartest players the game has ever seen. His relationships with the league's current players, coupled with how close he really is to being inside a player's head, could give him some momentum with regard to the job.
And if there's any doubt or worry about the learning curve the intelligent floor general is likely to face, he's working to line up a few close coaching associates to help him along the way. Among those said to be on Kidd's side with a promised spot on his bench as assistant coach is former Pistons' coach Lawrence Frank, who coached Kidd in New Jersey.