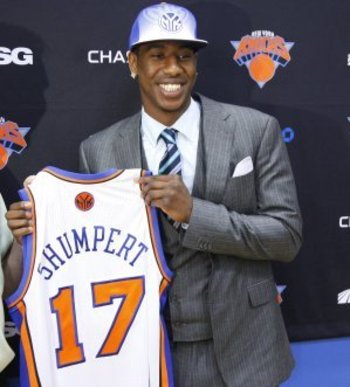 Due to the NBA lockout, Knicks rookie Iman Shumpert was not given the opportunity to strut his stuff during the Las Vegas Summer League for the league's younger talents.
That being said, perhaps he's found the next best thing to further his progress.
Shumpert has been participating in the Impact League, also taking place in Vegas, this week.
He's been playing well too
, in the league that has so far featured the likes of John Wall, Demar Derozan, and Jermaine O'Neal.
The rookie recently logged 26 points and 6 rebounds while leading his squad to victory during day three of the league.
The chance to play against some of the league's better veterans, rather than fellow unproven rookies, is certainly a bigger challenge for Shumpert. While there's not much to go on just yet, Knicks fans should like what they see from him at first glance. Though the team drafted Shumpert for his defense, his hard work is already appreciated and his freakish athleticism should help him thrive in Mike D'Antoni's offense.
Shumpert is absolutely making his first impression with Knicks fans a strong one, even if it isn't too extensive just yet. Between logging a great amount of visible hours in the gym over the summer, and his immediate success in the Impact League, it's safe to say the Knicks rookie is off to a good start.
He hopes to have a chance to begin building strong rapport with some of his new teammates before the NBA season starts as well. Chauncey Billups, Roger Mason Jr., and Shawne Williams are all listed on a roster for the Impact League, but have yet to appear.
If you can't be in Vegas to witness' Shumpert's prowess for yourself, check out the video below featuring some of his thunderous slams and other skills he's been honing this summer.