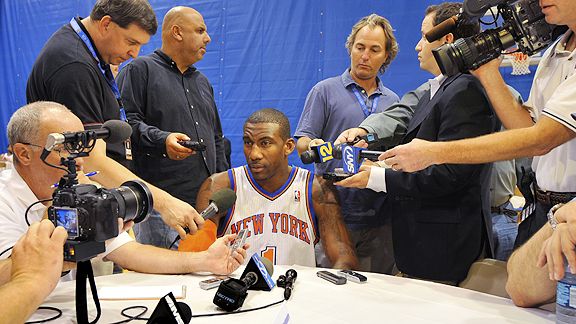 Knicks Journal was on hand today at the MSG Training Center as the Knicks met with the media for the first time as a team entering the new season.
As a group, the Knicks displayed a great deal of positivity with hopes for success. How high the ceiling is for such success remains to be seen, but many of the Knicks conveyed that the newly assembled group is ready to strongly contend for a playoff spot.
Returning players such as Wilson Chandler and Bill Walker, as well as newcomer Ronny Turiaf, made it known that they and their teammates are ready to bring the Knicks back to its winning ways.
To hear more individual conversations, such as ones pertaining to how Wilson Chandler plans to step up this season, what Andy Rautins is looking to accomplish in his rookie season, and what Ronny Turiaf is planning on sharing(and not sharing, for that matter!) with his teammates during their trip to his hometown of France, check back later.
In the meantime, check in with Tommy Dee from TKB, Seth from Poasting and Toasting, and Alan Hahn of Newsday, all of whom I ran into today. Good guys.