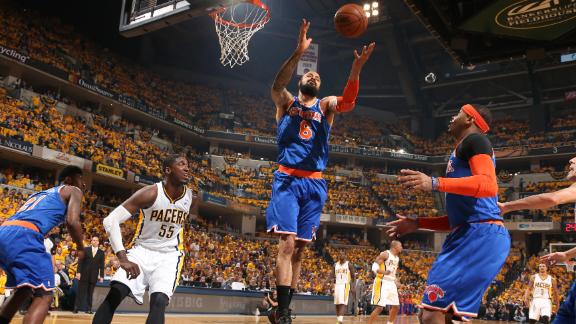 Shortly before earning himself a spot on the NBA's "All-Defensive" First Team, Tyson Chandler was quick to call out his Knicks teammates for their lack of ball movement on the offensive end.
With a reputation as quite the defensive star, is Chandler right to have called out players like Carmelo Anthony and J.R. Smith? The fact is stagnant offense and too many isolation sets have both played a role into New York falling 2-1 behind the Pacers in the Eastern Conference semi-finals.
But so has their lack of defensive intensity. While Chandler can criticize his offensive-minded teammates all he wants, there's no denying any one of them would be justified coming back with something to say of their own, with regard to the big man's efforts.
Whereas players like Anthony and Smith are supposed to pour in the points, Chandler is supposed to serve as the anchor of the Knicks' defense. He did it in 2011 for the NBA champion Dallas Mavericks, and there's no doubt that with New York competing at its highest level in over a decade, the team is depending on Chandler to do the same for them now as well.
As the anchor of such efforts, it's clear he sets the tone for what kind of intensity the team will put forth the rest of the way. Unfortunately for Chandler and his Knicks, he hasn't looked much like the defensive aggressor most people expect him to be. Instead, he's looked tentative on the boards and isn't playing as physicality as he can on Roy Hibbert.
Exploiting Chandler's feeble physicality with an array of effective offensive moves, Hibbert has looked as dominant as Shaquille O'Neal against the Knicks in round two. What's more, he's been roaring and soaring up to crash the boards, much like Chandler should be. Hibbert's ability to attack the glass on both ends of the floor is neutralizing the same big man who edged him out for a spot on the Eastern Conference All-Star team just a few months ago.
And of course, taking Chandler out of the game weakens the Knicks tremendously. New York not only depends on him defensively, but usually also appreciates some form of offensive output from his as well. Not putting himself in the position to crash the offensive glass much, the big man has also frequently not been in place to capitalize on alley-oop passes from his teammates.
As a leader, sometimes it's necessary to call out your teammates in hopes of lighting a fire under their butts. But when you're the team's heart and soul, who's going to be there to light the fire under yours when be instead?
Chandler has to understand how much of the Knicks' success starts and/or ends with him. Regardless of whether or not he's simply regarded as a defensive player, his efforts are still nevertheless infectious when it comes to both ends of the court.
Good offense often stems from good defense, and right now, it's clear Chandler isn't giving New York enough of that to inject some life into their offense. Should his feeble efforts continue as Hibbert toys with him again and again, the Knicks' center could be looking himself in the mirror when it comes to figuring out who to blame for an earlier playoff exit than expected for New York.