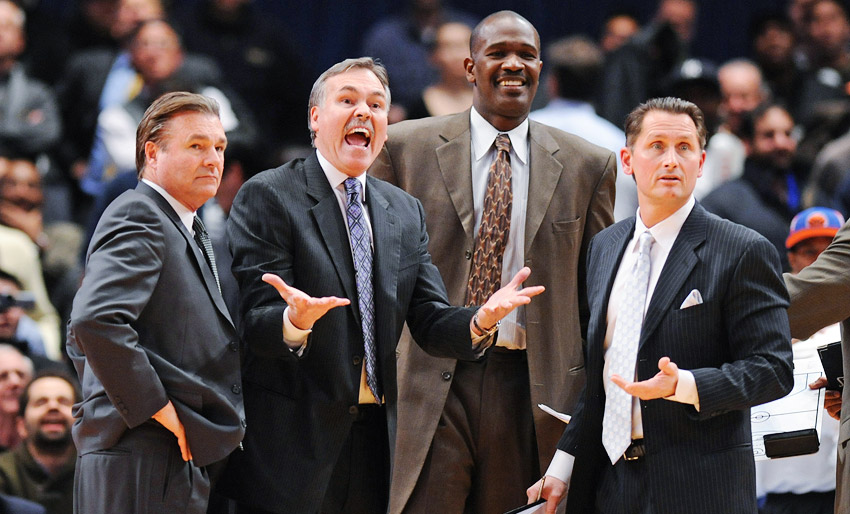 The New York Post's
Marc Berman is reporting
that despite no formal announcement, all four Knicks assistant coaches will return to the team next season, whenever that shall begin.
Phil Weber, Dan D'Antoni, Kenny Atkinson, and senior member Herb Williams (all of whom had expiring contracts) have had their contracts extended through next season. The extensions also likely signal that head coach Mike D'Antoni, who already is signed through next season, will also definitely be back.
The faith in D'Antoni and his group of most trusted men makes sense, especially with the lockout in full swing. Furthermore, the coaches deserve another season with the post-Carmelo Anthony trade assembled Knicks to see if they can really get things rolling with a training camp and such under their belts.
There was brief speculation that Williams would not be retained, especially with a defensive specialist/lead assistant, like Boston's Lawrence Frank, expected to be added to the staff in time for next season. That being said, Williams has been a staple on the Knicks bench since 2003 (and obviously as a player long before that as well).
Serving as an interim head coach at times for the Knicks over the years, some may wonder why Williams has not secured a head coaching position with so much experience. His former Knicks teammate, Patrick Ewing, has had similar troubles.
In the past, Williams has interviewed for head coaching posts with the Knicks as well as the Pacers. In addition to his longevity, he also shares an agent with Mike D'Antoni, which may play into his return as well.