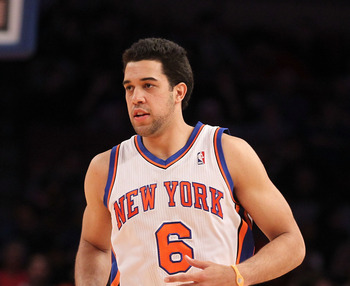 Though many of the Knicks have been struggling on offense as of late, Landry Fields' lack of production early on has particularly been quite a let down, given how he was truly able to elevate the team during his rookie campaign.
Perhaps the sophomore guard has already begun to bounce back, recording two straight double-digit scoring outings in the Knicks' last two losses.
There's no doubt Fields can be somewhat of an X-Factor for his team, and in my first piece for The New York Times' NBA blog, "Off the Dribble," I examined Fields' struggles and pointed out what may very well be the problem.
By positioning Fields behind the three-point line on either corner of the court, the Knicks' coaching staff is taking away the contributions he had provided in the past. His rebounding numbers are down (from last season's 6.4 per game to this season's 3.6) because he is no longer in position to cut to the basket to crash the boards.
Furthermore, his placement on offense is clearly not helping his shooting; he no longer has many opportunities to knock down easy jumpers. Fields is shooting an abysmal 21 percent from beyond the arc. And his 43 percent field goal percentage overall represents nearly an eight percent drop from last season's solid numbers.
Fields' true value to the Knicks has been how well he fit, able to elevate the team while easing into the offense. He's the kind of player who provides various intangibles. The team needs to give him free reign (rather than restricting his movement) to do what he does best: all of the little things.
With the flow of the Knicks' offense off completely, Fields, like the rest of his teammates, has looked utterly lost all season long. Hopefully the team figures out a way to remedy this, starting with tonight's game vs. the Nuggets.
You can read my full piece for "Off the Dribble"
here.