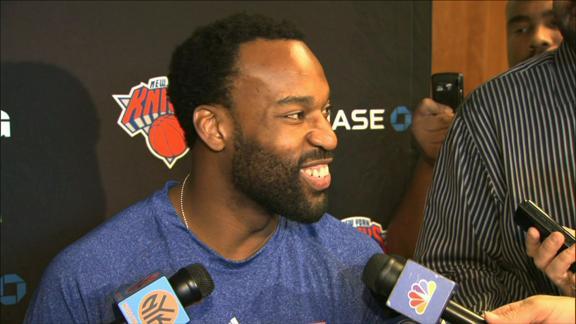 After over a month full of speculation, Baron Davis hit the hardwood for the Knicks for the very first time Monday. The point guard
acknowledged the rust he attempted to fight off
during his first practice of the season, and so did his new coach, Mike D'Antoni.
Though Davis practiced with the first unit (with Landry Fields as his backcourt mate,
according to
The New York Times'
Howard Beck)
, he is expected to formally make his way into the lineup playing spot minutes, as early as later this week.
Easing Davis into the rotation is certainly the right way to go about things. Though the Knicks' sorely need the skills B-Diddy brings to the table, they cannot expect too much from him too quickly. Not only will he provide his new team with a much needed floor general to organize the offense, but the Knicks will also rely on Davis to score some too. The team has lacked a consistent third scorer over the course of the season so far.
While he gets back into game shape and builds chemistry with his teammates, the two-time all-star may very well be more productive providing the Knicks with a spark off the bench. With Josh Harrellson sidelined around six weeks due to a wrist injury, the Knicks will be craving points off the bench even more so than they have early on. Davis could certainly give his team that boost.
Whatever role he fills for the Knicks, it's important that Davis helps change the culture of this team. After losing six straight games, the team is clearly in disarray as it searches for answers, questioning everything.
Many question the chemistry between Carmelo Anthony and Amar'e Stoudemire when examining the team's recent struggles. The two are clearly two entirely different players on offense, with 'Melo able to thrive in isolation situations, and STAT more productive in pick and roll situations.
Obviously a dominant ball handler, Anthony's many possessions and excessive shot selection of course takes away from the offense of his fellow Knicks' co-captain. With all that recognized, an efficient point guard could balance out Anthony's possession time, while all the same, getting the ball to Stoudemire in more efficient situations.
The Knicks will look to continue figuring things out on the court as they take on the Bobcats in Charlotte tomorrow night.
Along with Davis, reserves Jeremy Lin and Jerome Jordan practiced with the Knicks on Monday, after both were recalled from the D-League following impressive brief stints with the Erie Bayhawks last week.