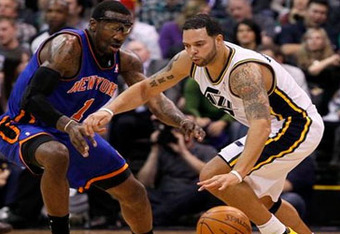 Deron Willians of the Nets made headlines yesterday with the report that he would be playing for Besiktas in Turkey should the NBA lockout spill over into the scheduled regular season. Hawks center Zaza Pachulia will also be joining him, and Besiktas (who had Allen Iverson play for them briefly last season) is not yet done scouting NBA players looking for jobs during the lockout.
That being said, the splash made by Williams isn't likely to influence Knicks stars Amar'e Stoudemire and Carmelo Anthony, who are both currently rehabbing from injuries that plagued them towards the end of last season.
Stoudemire, who has reportedly already gotten offers from teams in China, Europe, and Israel, will not risk the $80 million remaining on his contract with the Knicks,
according to his agent Happy Walters.
STAT would need to find an outside party to insure any international contract he would sign, in the event he gets injured while playing.
The Knicks had flirted with the idea of trading for Williams prior to last season's trading deadline, but instead plugged the trigger on a deal for Anthony. Anthony, who is spending his time this offseason with with family and working on his rap label, is also unlikely to play overseas.
While it appears as though the Knicks can let out a sigh of relief for now, Knicks guard Roger Mason Jr., who serves as Vice President of the players union,
told Newsday
that he has spoken to many stars players, including STAT and Melo, and that anything is a possibility.
As proof, Kobe Bryant (who spent time growing up in Italy while his father played professionally),
is said to be targeted
by Besiktas as well to pair up with Williams in its backcourt.
The issue with multiple star players signing overseas is that most international teams, outside of those in China, likely do not have the resources to acquire more than one player of such a caliber. All the same, the prospect of Williams playing in Turkey may certainly be getting owners around the league a bit worried (should other players follow in his footsteps) as his debut draws closer.