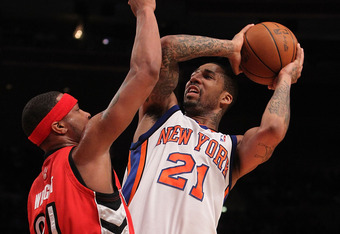 The new-look Knicks opened up their season with a 98-93 victory over the Raptors. While it's good to start the season on a high note, there were, of course, various ups and downs for the Knicks during the match up. With that, here are some game observations:
-Defense wins ball games. While the Knicks' intensity was not as high as one would hope, the team did play enough defense to come away with a win.
-The multiple defensive surges were often led by Ronny Turiaf, who came off the bench to block four shots.
- The team's total of 10 blocked shots was the highest total for Knicks' blocked shots in a game since the days of Dikembe Mutombo (who anchored the Knicks defense in 2003-04).
- While Amare Stoudemire only scored 19 points, he took control in the 4th quarter to propel the Knicks to victory. He immediately began proving he's the clutch go-to-guy the team has been lacking for years.
- Did Wilson Chandler prove Coach D'Antoni right or wrong by scoring 22 points off the bench? Does his offense provide a boost off the bench, or is it needed to start off the game?
- The Knicks' scoring attack was also balanced by Landry Fields, Raymond Felton, and Toney Douglas, who all scored in double figures.
- Although he also scored in double figures with 12 points, Danilo Gallinari's shooting woes continued last night. Is he hurting the Knicks' chances of acquiring Carmelo Anthony?