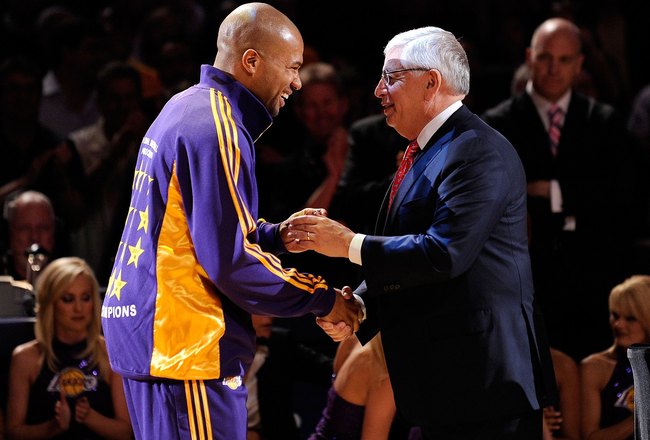 The NBA and its Players Union met today for five to six hours in Manhattan, with hopes of prolonging the lockout no more, the goal to reach an agreement on a new CBA.
The end result? Things do not look so hot at first glance.
Commissioner David Stern and Deputy Commissioner Adam Silver emerged from meetings this afternoon, with nothing to say to reporters. Silver did mention the two sides would meet again next week, though.
Two reporters,
The New York Post's
Marc Berman and
Yahoo!'s
Adrian Wajnorowski, have hit the ground running, however, tweeting about the responses, or lack of, for that matter.
Berman tweets:
"
Meetings have ended after five hours. Stern says will meet next week which is not good sign. If closer they would have met tomorrow."
Berman tweets
: "
Stern saying he had "no announcement" yet on training camp being postponed sounded like it was coming shortly."
Wajnorowski tweets:
"Stern and Silver bailed, offered nothing. You can expect the next step today or tomorrow will be to cancel 1st two weeks of training camp."
Union Chief Billy Hunter and NBPA President Derek Fisher followed Stern and Silver, looking bleak as ever as well.
Berman tweets:
"
Barely audible Fisher even more downcast than Stern saying wont "guess" on whether season will start on time"
Wajnorowski tweets:
"
Fisher on season starting on time: "The calender is obviously not our friend."
Wajnorowski tweets
:
"
Clearly, the season isn't starting on time. Any lingering chance of that passed today."
Wajnorowski tweets
: "
Both sides looked and sounded as glum as ever, far from any solutions. (In case that wasn't clear in the past several tweets)."
Who wins this exciting round of "Tweeter of the Day?"
In all seriousness, it's a shame the two sides cannot come any closer to an agreement. Waj also did
go on to note
, though, that the two sides could be giving the media the silent treatment and keeping any signs of progress to themselves.
It's one thing not to want to get people's hopes up through the media, but I simply don't see how it's otherwise in the best interest of the two sides to give off this type of negative vibe following the meeting. Things cannot be good, there.
More on this and any new developments within the next couple of days.