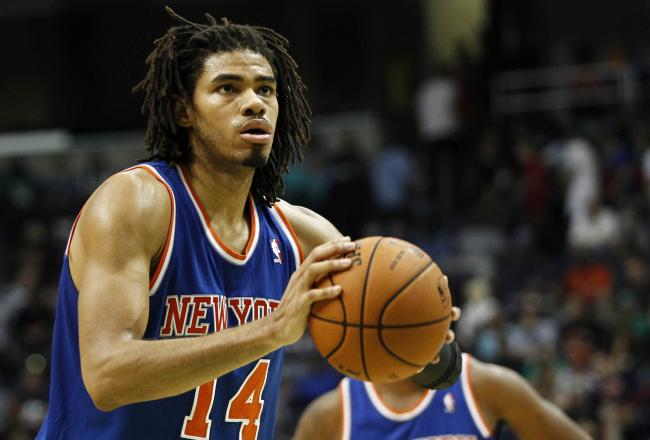 Despite displaying explosiveness and scoring 18 points in the Knicks' loss to the Raptors just this past Friday, it was revealed that Amar'e Stoudemire will be sidelined a couple weeks, due to a ruptured syst in his left knee. He's returned to New York to have the injury re-evaluated.
Such a blow to this still adjusting Knicks squad is quite devastating. After struggling last season, Stoudemire was being looked upon and expected to begin bouncing back with a very efficient year, if not fully emerging as a star once again.
New York has a lot of depth, but all of those different weapons seem to have been put in place not only to off set the overall age of the team, but to make sure the squad's nightly attack is a balanced one.
But with Stoudemire not expected to be ready by opening night of the regular season, a wrench has certainly been thrown into the Knicks' initial plans to compete at a high level right off the bat. Carmelo Anthony was looking forward to embracing more a team-player role, creating opportunities for others rather than himself. As STAT sits out, however, Anthony will be looked upon to carry the scoring load as the seasons begins.
As 'Melo is forced be a dominant offensive option, who else will step up in Stoudemire's absence? I mentioned earlier that we here at KnicksJournal.com would be adding insight and taking a look at the Knicks' two losses this weekend, and now seems as good of a time as ever to perhaps seek out a couple of the offensive positives from the contests.
Obviously Chris Copeland excited many people with his 34 point explosion Saturday night against Boston. He's the real deal. It's not just about how many points the forward scores, but how he does it. Copeland plays with an aggressive nature and shows dexterity around the hoop. He's smooth and knows how to finish under the basket. As most recently proven, he has a bit of a jumper as well.
Though Copeland's stood out and emerged against certain odds, there's no doubt he's thrived by building chemistry with the Knicks' new floor generals too. After playing overseas and understanding the international game, the big man's chemistry with Argentine Pablo Prigioni has been off the charts.
As Copeland keeps surprising with his impressive play, another candidate to step up is one the Knicks are already familiar with. Last season, Steve Novak emerged as a top reserve with his sharpshooting from downtown. Whereas he was used last season as a bit of a stretch four, New York was aiming to use him more so at three this season. But with STAT sidelined, like Anthony, Novak will have to play a position a bit out of his comfort zone.
But don't think for a minute that'll prevent him from making it rain. The key to Novak's success this season will be his ability to keep moving on the court, spreading the floor efficiently. Should he stay in one or two different areas along the three-point line, teams will figure him out rather quickly. That said, a bit more agility will add some versatility to his game.
As the Knicks inch closer and closer to the regular season, they're now faced with replacing the production Stoudemire would have provided them with. It'll be interesting to see if the team truly has enough depth in house to soften the blow.