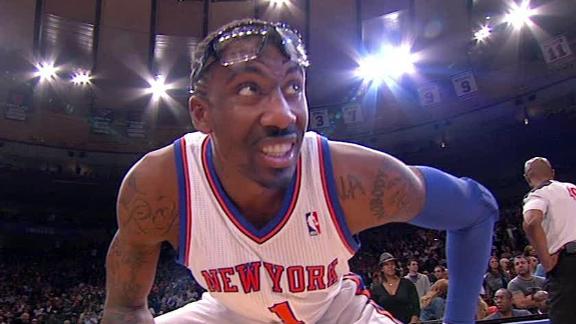 With Hurricane Sandy hitting Long Island hard this week, the "offices" of KnicksJournal.com were also clearly in its path. Please take this time to understand we will be posting as much and as often as possible as power and internet services become available throughout the week.
But in the aftermath of the horrific storm, the lasting effects don't appear to be over. Despite all the hype   surrounding the newly revitalized Knicks-Nets rivalry, with the two teams set to meet on opening night Thursday, their first matchup in Brooklyn has reportedly been postponed. 
And that's not all the aftermath of Sandy has done. In addition to forcing the Knicks to cancel practice on Monday, The New York Times' Nate Taylor also reported the team lost power completely at their training facility earlier, but have since gotten it back.
Though the Knicks and Nets won't be set to rumble just yet, LeBron James will still apparently be leading the defending NBA champion Miami Heat into the Big Apple for what will now be New York's inaugural game of the season.
Such changes for the Knickerbockers will mean that the team will instead practice tomorrow according to Newsday's Al Iannazone. The local beat writer also notes that the extra day of "rest" will give Marcus Camby another day to hit the hardwood tomorrow during drills. This could also mean that Camby may be ready to go against the Heat.
In addition, like most other Gotham City residents, some of the Knicks were almost sure to be personally affected by Sandy as well. Our buddy Seth of P&T gives us a look at how the hurricane wrecked havoc on Amar'e Stoudemire, or better yet, his car.
Of course, this isn't the worst of things to happen to STAT this week, as he also learned this week his knee injury will require surgery, according to the NYDN. The forward will likely be sidelined 6-8 weeks following the procedure.
That's all for now, Knicks fans! Thanks for sticking with us throughout the storm aftermath as other Knickerbocker updates become available.